Cruise Reservations
Ferry Reservations

Ships
Sapphire
Ivory
Princesa Marissa
Serenade
Ruby
Life on Board
Safety on Board
Itineraries
Sapphire Schedules
Ivory Schedules
Ferries
Prices
Sapphire Fares
Ivory Fares
5 - 12 day cruise fares

Excursions
Egypt
Israel
Lebanon
Syria
Rhodes
Crete - Ayios Nikolaos




Louis Cruises - Rhodes Excursions

Optional Excursion - Lindos - Duration 4 hours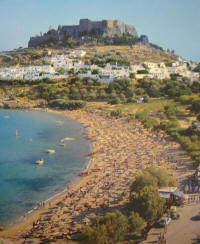 We depart from the port of Rhodes, driving along the picturesque Eastern Coastline that is scattered with white washed villages, until we reach Lindos. The medieval walls, constructed by the Knights of St. John in the 13th century, guard this enchanting site of the most important of the three great cities of ancient times. Here we will have free time to enjoy this lovely, picturesque town, shop for souvenirs and lounge at the local cafes. The more adventurous can opt to join their guide in climbing up to the Acropolis to visit the Doric Portico and the Temple of the Lindian Athena (entrance fee payable on the spot at Euro 6.00 per person) *. From the Acropolis, which stands on the brink of a precipice 400 feet above the sea, we can enjoy breathtaking views of the great expanse of the sea and St. Paul'019s Bay where the Apostle himself cast anchor during his historic trip to Ephessos. We proceed on foot up the great staircase leading from the Hellenistic portico to the Temple Of Athena, one of the most important temples of the ancient Greek world. NOTE: Ô0A7 The visit to the Lindos Acropolis requires a significant climb up a large number of steps and is therefore optional and not included in the price of the tour. Passengers wishing to visit the Acropolis may follow their guide '013 an entrance fee of Euro 6 per person is payable on the spot (Euro 3 for children).
Optional Excursion - Tharri Monastery & Panayia Tsambika- Duration 4.5 hours


Driving through the eastern coastline, we pass by the villages of Faliraki, Afandon, Kolymbia, Archangelos, Malona, Masri and Kalathos, until we reach the Monastery of Tharri approximately 65 km from the town of Rhodes. The Monastery is dedicated to Taxiarchis Michael and is located in a beautiful forest near the villages of Laerma and Asklipio. Tharri is the biggest and oldest Monastery within the Rhodes Metropolis. The Monastery, said to have been built in the 90th century AC, contains important topographies from the Byzantine era. On our way back to town we make a stop at the Monastery of Panayia Tsambika. The old Monastery is located at the top of a hill in the eastern part of the island. According to tradition, an icon of the virgin disappeared from Cyprus during the 12th century and re-appeared on the spot where the Monastery was built. A second Monastery was subsequently built on lower ground, which is where we visit.