Passenger and Car Ferries from Limassol, Cyprus.
Passenger and Car Ferries available to various ports from Limassol.
Louis Cruise Lines and Salamis cruises have previously run a ferry cruise between Limassol and Piraeus during the summer season. No Schedules have been released and it is still not available. it has been announced that this service will begin again shortly, numerous times. It last ran in 2004.
Announcements are often made in the press that like Christmas, it is coming

Grimaldi Freighter Cruises - travelling on their cargo ships as a passenger with or without any vehicles. They offer basic services giving you a natural freighter cruise experience. You are able to travel from Limassol to many European ports including Salerno in Italy, Setubal in Portugal, Cork in Ireland, Esbjerg, Wallhamn in Sweden, Antwerp in Belgium and Southampton in England.


Click here for Passenger and Car Ferry Crossings between Greece and Limassol
No Schedules have been released It is often announced this service will be available again. but........
Click here for Passenger and Car Ferries to other European Ports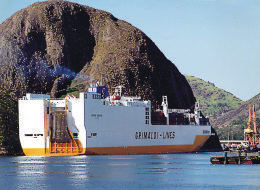 Please Note: NO PETS are allowed on any ferries.
We are sorry, it is not our rule and there is nothing we can do about it.