Cruise Reservations
Ferry Reservations

Ships
Sapphire
Ivory
Princessa Marissa
Serenade
Ruby
Life on Board
Safety on Board
Itineraries
Sapphire Schedules
Ivory Schedules
Ferries
Prices
Sapphire Fares
Ivory Fares
5 - 12 day cruise fares

Excursions
Egypt
Israel
Lebanon
Syria
Rhodes
Crete - Ayios Nikolaos
Louis Cruise Lines - Life on Board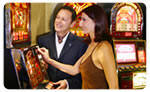 Louis Cruise Lines invite you to explore mythical places as you cruise in comfort.
Entertainment:
As far as entertainment is concerned there is a lot to do and see aboard ship. First there is the show in the ship's main lounge, featuring international entertainers. Then there is the ship's band that plays for your listening and dancing pleasure, and they play everything from rock to rumba, tango to sixties, and bouzouki to bossa nova. Of course you can always enjoy a slightly more sedate music in the lounge, or the flashing lights and loud blasts of the disco.

Casinos:
For those who would like to try their luck with a spin of the wheel or a turn of a card, the cosmopolitan surroundings of the international casinos will make sure that they will do it in style.
Duty Free and Cruise Value Shops
An extra bonus while cruising are the cruise value shops on board the Louis ships. On sale is a wide range of goods at travel value prices.
We recognise the changing market has produced increasingly sophisticated consumers and we eagerly accept this challenge! The Travel Value Shops will strive to cover the needs of the customers, irrespective if travellers within EU or outside EU destinations by continuing to offer the facilities, variety, choice and convenience to enable them to do all their shopping on board.

As part of the Louis Cruise Lines chain, the Duty Free and Travel Value Shops
• Employs highly trained Shop Managers and staff, well versed in product knowledge, selling techniques, promotions and customer care.
• Organizes various activities onboard, not only to generate revenue, but also for the entertainment and enlightenment of our customers. Events such as Fashion Shows, Bazaars, Perfume Seminars, Happy Hours, Seasonal Offers and Special Occasions.
• Enjoys the advantage of dealing directly with international Perfumes Houses and various suppliers from abroad due to our reputation and vast experience in the market.
• Continues to seek and brings new ground ideas in products, for the best possible results, by cooperating with many suppliers, locals and international as to achieve economical and valuable products such as special packs, special promotions, special editions to cover different needs to both young and more mature customers.
• Committed to extend our generous range of clothing to include smart casual and formal wear, as well as a large variety of colourful and modern accessories, brand named watches and fashion watches for the young, etc., a wide range of Souvenirs from around the world and, of course, the company's logo items.

Dining:
Last but not least the international cuisine on board Louis ships, is prepared by top chefs and includes a wide selection of buffet-style breakfast, table d'hôte and buffet dinners. During the mini cruises from Cyprus, we serve English breakfast, buffet type.

A buffet type of dinner always includes selection of cold salads and meats, variety of hot dishes, pasta, meat dishes, poultry fish, potatoes, rise, vegetables and a selection of fruits and sweets