Cruise Reservations
Transfers

Ships

Salamis Filoxenia
Deck Plan
Accommodation
Life on Board
Itineraries & Prices
Egypt
Israel (Holy Land)
Rhodes
Alexandria
Greek Islands
Longer Greek Island

Excursions
Egypt
Israel (Holy Land)
Lebanon
Syria
Rhodes

Salamis Cruises - Egypt Excursion
Optional Excursion - Classic Cairo
Currently only available combined with the Cairo and Nile River Excursion below
We will drive along the river Nile to the southern part of its delta to visit Cairo, the homeland of the legendary Pharaohs. Our first visit is at the world known Egyptian National museum and the world famous and most valuable collection of artifacts, the Tutankamons' treasures.
Our next visit will be at the only remaining Wonder of the World, the majestic Pyramids. Arriving at the Giza Plateau, time is provided to explore the Pyramid of Chephren and get acquainted with the magnitude and beauty of the Egyptian heritage. Then we will proceed to the great Sphinx, the truly mysterious marvel that guards the Pyramids since the days of ancient Egypt. To conclude our day, we will visit a papyrus factory, where you can observe the delicate skills that go into making it and limited time will be provided for souvenir shopping.




Optional Excursion -
Cairo & Nile River, the lifeline of Egypt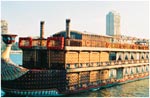 In addition to all visits included in the Cairo Classic Excursion, enrich your day with a cruise on the Nile. The river Nile is Egypt's lifeline for millenniums, being the most renowned river in history and the longest in the world. While enjoying a buffet lunch and an oriental belly dancing show on a luxurious river boat, we will glide you through the heart of bustling Cairo and the cities gracious monuments, buildings and tombs established by the Pharaohs and nobles over the centuries, in an effort to immortalize themselves.
The excursion to Egypt price is
83 Euros for adults
and 41.50 Euros for children under 12.